Applied Behavior Analysis (ABA) is most often used as an effective therapy for people diagnosed with autism or related neurodevelopmental conditions. It's also used for many other purposes, such as optimizing organizational performance, building a healthy lifestyle for yourself, and even fighting climate change. At its core, ABA is the science that is applied to change behavior, and learning it can lead to an enjoyable and rewarding job career.           
Behavior Therapists (BTs) are at the frontlines of delivering ABA therapy, and generally require some experience working with children. BTs are hired by ABA service agencies to provide 1:1 ABA treatment to individuals (typically young children) diagnosed with autism and other developmental disabilities. These services can be delivered in home, community, and school settings. Behavior Therapists have the opportunity to make life-changing impacts on children and their families. 
BT job responsibilities typically include:
Leading clients through daily activities, while embedding learning opportunities, using techniques from the field of Applied Behavior Analysis (ABA), as directed by a Board Certified Behavior Analyst (BCBA).

Assisting clients in acquiring academic, vocational, or daily living skills. These may include things like eating a balanced diet, money handling, or personal care. Clients may also need support with outings in the community to practice skills outside of the home environment.

Supporting the development of friendship skills by facilitating play during playdates, with siblings, during social groups, or community activities with peers. 

Collecting data on clients' responses throughout therapy sessions and discussing progress with supervisors during overlapping consultations.

Communicating with caregivers and modeling the ABA techniques being used with their children during therapy sessions. 

Implementing a wide range of interventions to create motivation for learning new skills and encourage social behaviors. 

Utilizing safe intervention procedures to de-escalate behaviors when working with clients who display self-injurious or otherwise unsafe behaviors.
What Our Staff Say
Kyo uses a child-centric approach, in which therapy is designed to be fun, engaging, and centered around the client's interests. We also encourage our staff to bring their own interests, personality, and creativity to their work with their clients.
"Working with parents cohesively to achieve a common goal with their child continues to motivate me every day," says Daniel, a Kyo Registered Behavior Technician (RBT) in California. "On my first day on the job with two parents, they expressed how greatly they wanted their child to communicate with them. In just three short months, we've been able to successfully teach their child how to use some sign language functionally." 
Daniel used a creative technique to teach his young client how to echo words. 
"Our greatest achievement so far was teaching her to echo our words by speaking into a fan to change the sound of our voices," he says. "To our surprise, that little trick was enough to make the kiddo want to echo us. Needless to say, we were all jumping for joy and ecstatic with how far their child has progressed." 
Achievements like that make Daniel's job as a Behavior Technician feel rewarding. 
"I strive for achievements like this with kiddos and their parents," he says. "The small successes we achieve along the way together are what make the journey enjoyable and rewarding."
A Professional First Step
Governing agencies like the Behavior Analyst Certification Board, Inc.® (BACB®) and state licensing boards, oversee professional certifications for those working in the field of ABA therapy. The BACB entry level certification is the Registered Behavior Technician (RBT).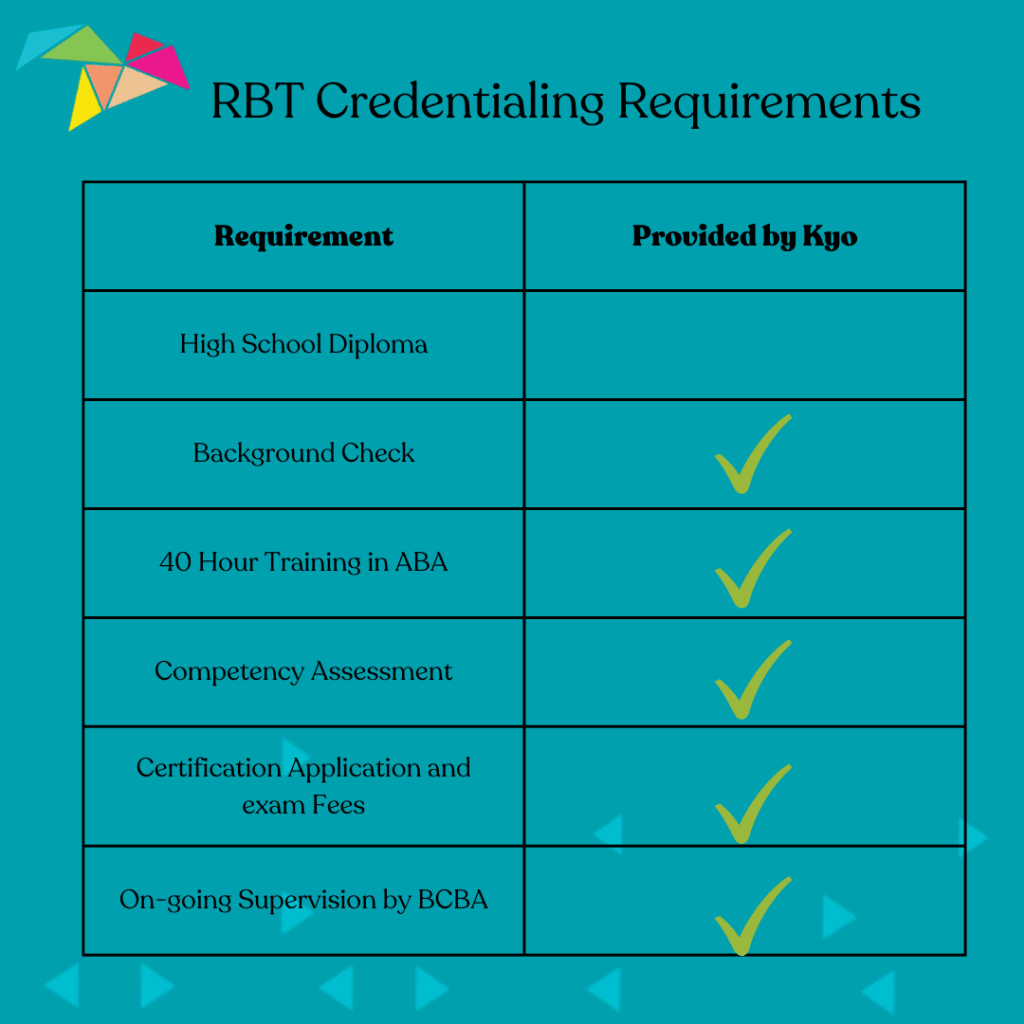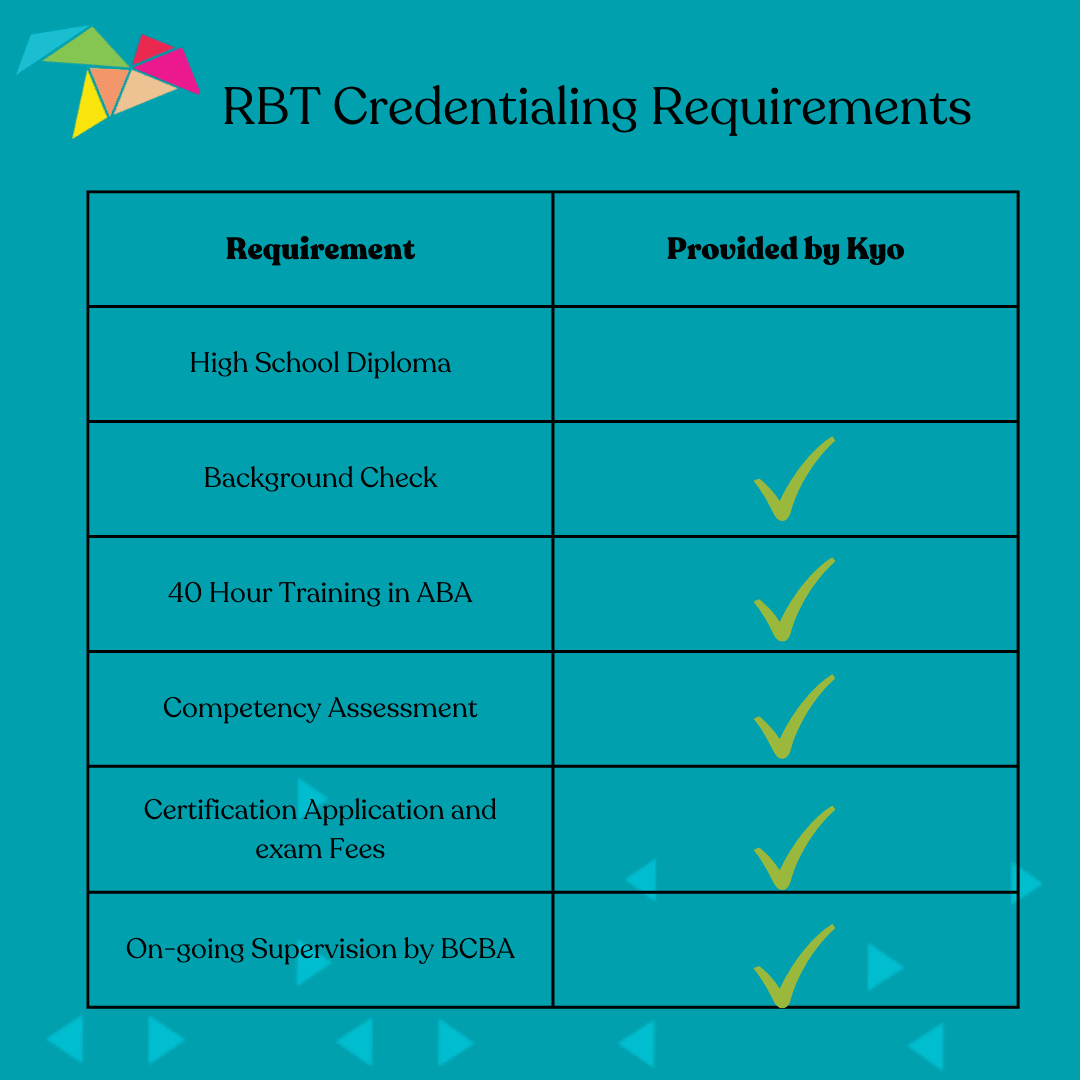 Kyo's Commitment to Behavior Therapists
Working as a Behavior Therapist is a fun and rewarding job, and like any job, it also has challenges. At Kyo, we support our Behavior Therapists through mentorship, regular clinical supervision, and opportunities to grow within the  field of ABA. Start a career in ABA today! Apply here
Learn more by reading a first hand account from one of our behavior therapists.
If you are looking for information on how ABA strategies are used visit our Youtube channel.